As memories of summer start to fade with the first rains of Autumn we can reflect with some satisfaction on one excellent village outing - the inaugural annual Arnesby v Shearsby Cricket match. In fine weather with an enthusiastic crowd cheering on, Arnesby held on to beat Shearsby by just 12 runs in a tense finish.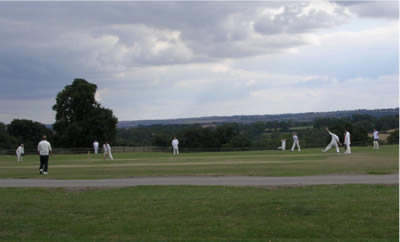 Watched by an assembled gathering from both villages of over 50, Shearsby captain Simon Stacey put Arnesby in to bat. A steady scoring rate of around 5 an over saw Arnesby reach a good score of 202 after their allotted 40 overs. Notable performances by George Lees (60), Dave Matthews (34) and Pete Turner (27) in the middle and end of the innings ensured that the best Shearsby bowlers were always under test. Good bowling from C Evans and P Sanders (2 wickets) pegged Arnesby back at the start, and accurate, economical bowling from S Stacey, C Stanley and P Durran helped slow the Arnesby run rate. However it was George Lees that impressed most with 8 fours and one six in his solid 60.
In reply Shearsby matched the Arnesby run rate all the way through to the half way stage – but the brakes were applied sharply when D Matthews and P Turner stopped the fast flowing Shearsby runs. Further momentum was lost when P Stanley retired on 50 although he did come back at the end of the innings to finish a splendid innings of 68 not out. N Harridge and P Durran combined in the middle order for a fine partnership, but unfortunately Shearsby could not repeat that effort as they ran just short.
The day was a great exhibition of sporting talent that exists in both villages ably assisted by a guest player for each team: Norman Moltu (born and bred in Arnesby, but now moved on) and Nick Harridge dropping in from Perth Australia!
Arnesby: L to R: John Jones, Tom Williams, Milan Duric, Dave Hogg (capt), Mike Brown, Tom Walkinshaw, Pete Turner, George Lees, Norman Moltu, Richard Herbert, Dave Matthews, Martin Greenwood
Shearsby: L to R: Simon Astill, Phil Stanley, Chris Stanley, Nick Harridge, Clive Evans, Simon Stacey (capt), Chris Palmer, Kevin Worsley, B Morris, Pete Durran, John Wisden

Arnesby Innings
Batsman
Bowler
Runs
Bowling

O

M

R

W

Avg

R Herbert
Sanders
2
C Evans
6
0
23
1
3.83
M Greenwood
Run Out
0
P Sanders
4
0
16
2
4.00
J Jones
Caught
Palmer
15
P Durran
5
1
17
1
3.40
T Walkinshaw
Sanders
11
C Stanley
3
0
9
1
3.00
M Duric
Run Out
2
J Wisden
3
0
24
0
8.00
M Brown
Caught and

 B

Stanley
0
N Harridge
5
0
29
0
5.80
T Williams
Astill
0
S Astill
3
0
18
1
6.00
G Lees
Caught and

B 

Evans
60
C Palmer
5
0
25
1
5.00
N Moltu
Caught
Stacey
11
S Stacey
6
0
20
1
3.33
D Matthews
Caught
Durran
34
D Hogg
Not Out
12
P Turner
Not Out
27
Extras
3b 1lb 24w 1nb
28
Total 40 overs (for 10 wickets)
202

---

Shearsby Innings
Batsman
Bowler
Runs
Bowling

O

M

R

W

Avg

B Morris
Caught
Williams
3
T Williams
5
0
26
1
5.20
P Stanley
Not Out
68
M Greenwood
5
0
16
0
3.20
C Stanley
Run Out
0
T Walkinshaw
3
0
17
1
5.67
J Wisden
Caught
Walkinshaw
16
P Turner
5
0
15
1
3.00
S Astill
Turner
0
M Brown
4
0
27
0
6.75
N Harridge
Matthews
18
G Lees
6
0
31
1
5.17
P Durran
Caught
Moltu
21
D Matthews
5
2
10
1
2.00
S Stacey
Caught
Lees
7
N Moltu
5
0
24
2
4.80
P Sanders
Moltu
10
D Hogg
3
0
11
0
3.67
C Palmer
Run Out
0
C Evans
Moltu
4
K Worsley
Not Out
4
Extras
20b 0lb 18w 1nb
39
Total 40 overs (for 10 wickets)
190