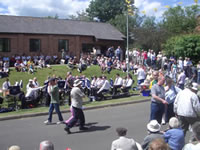 The Arnesby May Fayre is an annual event held on the Monday Bank Holiday at the end of May. A variety of events, stalls, displays and entertainment are held throughout the village and the May Fayre has become a major attraction in the area.

Over the years that the Fayre has been held large amounts have been raised to improve village buildings and amenities such as the village hall and to contribute towards the maintenance of St Peter's Church, the Baptist chapel, the Primary school and to support local organisations.

The 21st May Fayre in 2000 featured the first running of the 5 mile cross country race between Arnesby, Shearsby and Bruntingthorpe. Thirty-six runners took part in the first race and it has become a popular event at every Fayre since.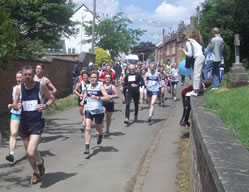 The 2001 event was cancelled due to the foot and mouth epidemic but the Fayre returned in 2002 as the Arnesby Jubilee Fayre as it was held on Monday, 3 June, the date of the official celebration of the Golden Jubilee.

In 2003 the Fayre broke all records; the warm weather brought record crowds and record takings. The third running of the 5 mile cross country race was again well attended and for the first time a junior race was held. 2003 details »»

The 2004 Fayre broke all records; attendance, receipts and profit were the highest yet. A warm, sunny day meant that helpers were at full stretch and food and drink in particular reached new records. A scarecrow competition proved very popular and many households entered. The fourth Cross country race attracted 58 adult runners and 18 juniors. 2004 details »»

In 2005 all records were broken again - attendance and profits were higher, the scarecrow competition was repeated with more entries this time and the cross country race is now a part of the running calendar for local athletic clubs. Read more»
The 26th Fayre in 2006 was affected by a chilly wind and threatened by numerous rain and hail clouds. Apart from one storm at 9am and a final downpour at 4pm however, the event went ahead as normal and raised just over £10,000 for local organisations and amenities. Details »»



It had to happen one year! After many years of at least reasonable weather the 2007 May Fayre was beset by rain, winds and low temperatures.

Read more»