Arnesby Golf Society
---
2016
14/15 August. Our 6th Annual Weekend away was at Breadsall Priory, Derbyshire
Sunday (tee off 12:40) on the Moorlands course and Monday at 9:30 on the Priory course.
Winners: Sunday, Nick Tarratt (39 points), Monday, Martin Madden (35). Overall, Nick Tarratt (70) Full Results»
20 May Cold Ashby Winner: Marck Geary 37, 2nd Graham Sawyer 35, 3rd Adam Johnson 33. Pairs: Pete Turner/Adam Johnson 64, 2nd Arthur Golding/ Brian Wood 61. Long Drive Sheridan McKnight. Nearest the pin Adam Johnson.
2015
9/10 Aug. 5th Weekend Morley Hayes Golf Club Derbyshire Photos»
2014
10/11/ Aug. 4th Weekend Farthingstone Golf Club Northamptonshire.
13 June Rutland Water. 17 entrants this year with many doing the 9-hole par three course before lunch. A very warm day until mid afternoon but it remained dry and calm. Dave Matthews won the stapleford competition with 36 points, 2nd Phil Lees 34, 3rd Terry Emmony 29. Read more»
2013
11/12 Aug. 3rd Weekend Whittlebury Hall, Northamptonshire.
12 June Lutterworth

2012
19/20 Aug. 2nd Weekend Marriott St Pierre Country Club, Chepstow
3rd Society Golf Day, Rutland Water
29 June Cold Ashby Twelve members took part in this event once again organised by Paul Williams. The atrocious weather conditions just being the start improved during the round until we just had a strong wind to contend with. Read more»
2011
9/10 Oct The inaugural Arnesby Golf Society 'away day' tournament at Bransford Golf Club near Worcester Eleven members made the trip and stayed at the Bank House Hotel, next to the course.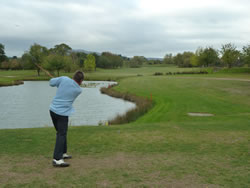 Members played a team competition on the demanding course on Sunday afternoon and a singles stapleford competition, in dry but very windy conditions, on Monday morning.
The winner of the singles competition was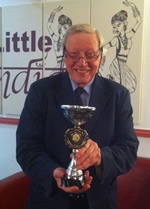 Peter Welton with a score of 32 and he was presented with a momento at a meeting at Little India.
Right, Phil Lees drives off at the first.
Photo Album»


3 June Kilworth Springs Golf Club followed by an evening prize giving at Little India. The Stapleford competition was won by Marck Geary. Longest drive: Dave Matthews. Nearest the pin: Terry Emmony.

---
If you would like to be kept informed of Golf Society events, email
Terry Emmony
to be added to the circulation list.