Sue Spriggs once again organised this fundraising evening - Arnesby's third promises auction. Mark Robinson was an excellent, pushy auctioneer and kept a full room of bidders entertained through 60 items. The remaining lots were bid on through lists around the room. A record total of over £4,600 was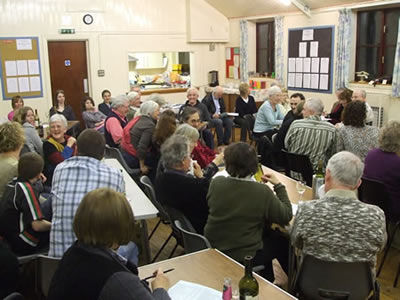 raised for local amenities - the village hall, Loseby Wood and toilet facilities for the disabled in the church and chapel.

Sue was supported on the night by Anna Beeson, Debbie Dunn and Brian Spriggs, who bid on behalf of postal bidders. Many people contributed food for the half time buffet.

Around 115 lots were on offer, ranging from dog walking, gardening, cake making, ironing and baby sitting to chances to ride in fast cars around Donnington.
As with the previous auctions though, the highest single bid was £220 for a weekend holiday in the Peak district. Other lots attracting high bids involved microlight flights, tours of Leicester Tigers training and clubhouse facilities, jazz and string quartet performances and lunches; one to be cooked by Steve
Fitzpatrick of the Joiners Arms and another at Peter Welton's studio.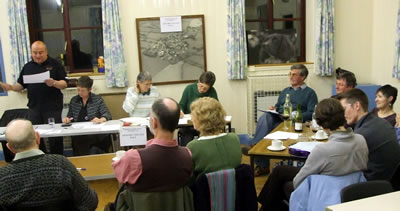 Promises auction, 2004»
Promises auction, 2006»