Tom's surprise present changes a life!
---
A disabled man had the surprise of his life when a caller arrived at his home in Africa with a present - a new false leg.
Paul Prierra, who is in his 50s, lost his leg to diabetes and for years had been struggling to move around using a wooden leg and a zimmer frame. In November last year he met Tom Williams, from Arnesby, who was travelling through Gambia on an adventure holiday.
Tom and his friend James Ramage, from Leicester, became good friends with the family and when Tom got back to England "he set about finding a new, better leg for Paul.
He enlisted a friend of his sister to make a new leg for Paul and flew back to Gambia to personally hand over the leg, which was a perfect fit.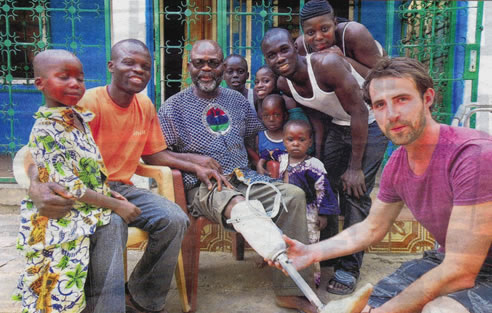 Tom, who runs his own digital media firm, TourVista, said: "Paul was absolutely speechless. None of his family knew I was on my way back to see them or that we had a new leg, which was worth more than £5,000. "The leg fitted well and Paul could walk much more easily and didn't need the zimmer frame at all. They were all extremely grateful."
Tom had taken measurements of Paul's leg during the November trip because he had hoped to find a second-hand leg that they could post back to Africa.
Tom said: "I searched the internet for second-hand legs but had no luck. But my sister, Emily, who is a make-up artist, emilyjanemakeupartist.co.uk, worked with a guy in Portsmouth, Karl Ives, who actually agreed to make the leg for free, which was brilliant. I took the leg back to Gambia and stayed with the family. There was no trouble taking the leg on the plane, although it did look quite funny sticking out of the back of my rucksack."
During the November trip, Tom had got to know Paul after meeting his son, Domingo, who worked as a chef in a restaurant. Tom said: "We insisted on meeting Domingo after eating some fish he'd cooked, which was the best we'd ever tasted. He told us that if we thought he was a good cook we should try his mother's food, so we ate at his family home.
"Going out there was life-changing. The whole experience was one of the best of my life."
"The plight of the people was shocking but they were so happy because although they were poor they were rich with happiness. We learned a lot."

(As reported on the Leicester Mercury, 4/4/12)